Health insurance is in demand from employees. However, your premiums, deductibles, copays and coinsurance keep going up.
Combining Gap with health insurance is the solution, providing great coverage at a low cost. It's sneaky. It rocks. It makes you look like a hero, all while lowering costs for your company and also your employees.
Fully-Funding, Level-Funding, Self-Funding, HSA, FSA, HRA are options we'll take a look at to meet you and your employee's needs.
Let's schedule a review and get more for you and your employees.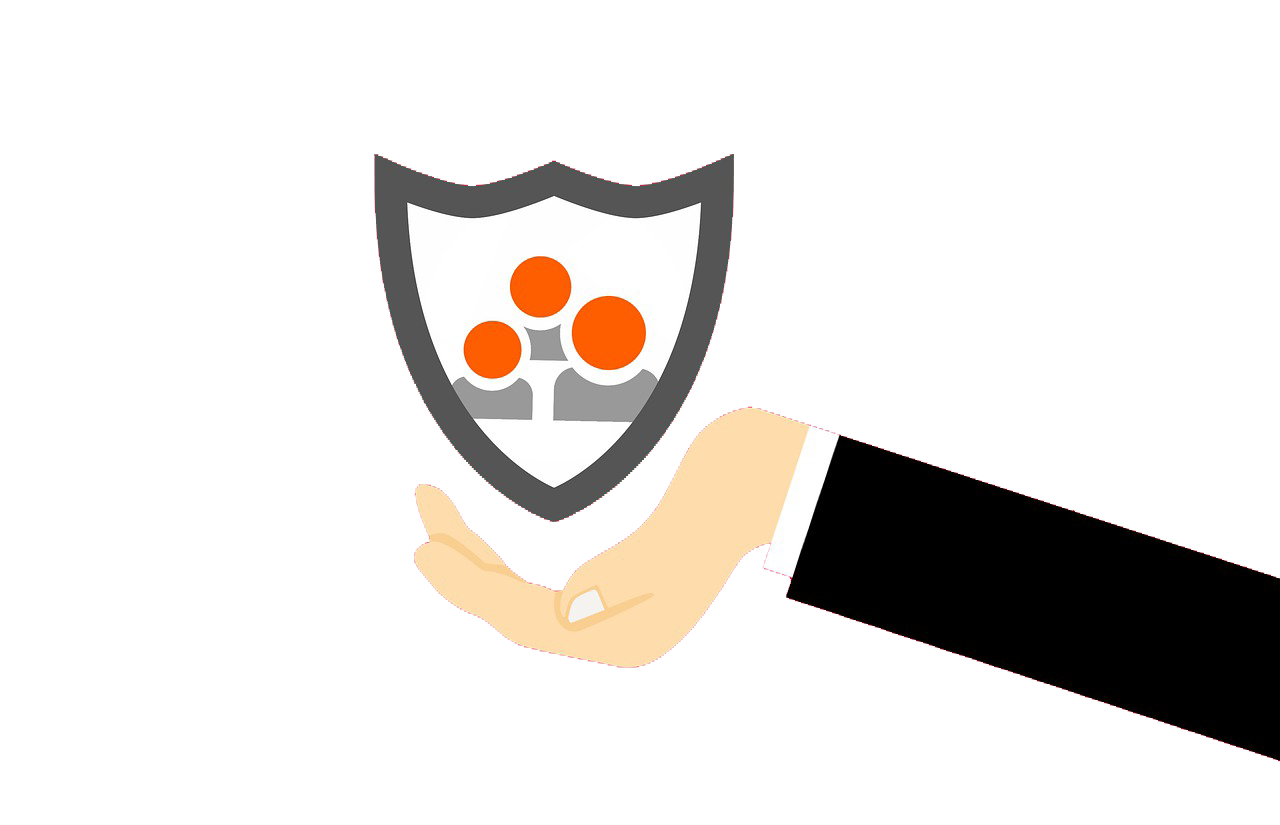 Gap Health Insurance: Everything You Need To Know
Are your health premiums going up?
Are your copays, deductible and coinsurance going up too?
Would you like to have the funds to cover these growing deductibles and copays?
Are you looking for an affordable health insurance plan?
Do you have to spend a fortune before your current plan pays anything?
If you've replied yes to any of these questions, chances are you need to add Gap Health.
In the real world, it could mean the difference between owing thousands upon thousands of dollars for medical charges or owing nothing at all.
Health insurance is BROKEN! We fix it!
So, What Exactly Is Gap Health?
Simply put, it is coverage for the additional costs incurred due to increased deductibles, copays and co-insurance.
It is an additional policy which, when combined with a higher deductible medical plan, provides more coverage for medical expenses which, many times, go unpaid because of the high deductible, copays or coinsurance.
Gap Plans complete a health plan because they pay the large deductibles and copays for inpatient and outpatient services.
If you are already offering a plan with a high deductible to your workforce, let us show you how adding Gap helps you and your employees. Not that anyone wants to be sick. But, if your health plan has high deductible, coinsurance and copays. With Gap, your employees won't go broke when they get sick.
What Does Gap Insurance Include?
When Gap is combined with your primary insurance, the copays, deductible and coinsurance are covered, filling the huge holes in a typical health insurance policy. So, you or your employees can pay for medical care without worrying about the huge costs.
In essence, gap insurance rescues you from financial downfall which arises due to healthcare expenses.
In doing so, it provides a cushion against out-of-pocket expenses, sky-high deductibles, underpayments on acute injuries, etc. So, your employees can stay out of financial trouble.
Here's a typical claim example of what happens when you combine Gap Health with Primary Health: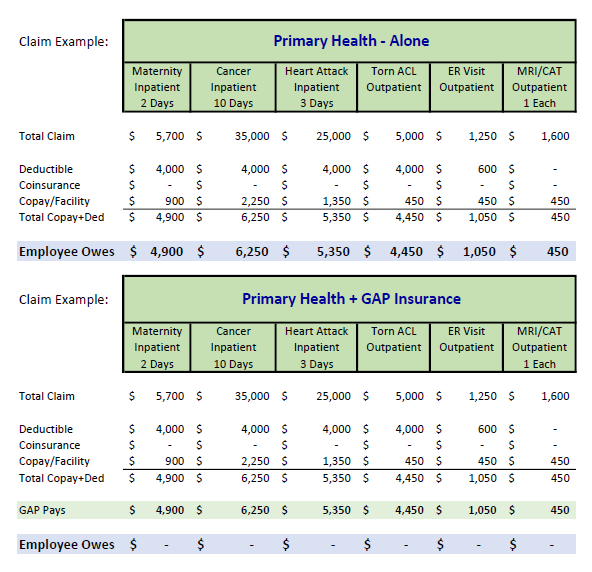 Why Employees Need A Gap Insurance Plan?
The answer to this question largely depends on your employees, their health requirements, and the type of health care plan they have.
If an employee is suffering from a chronic illness and requires frequent visits to the hospital combined with the expenses of other treatments and medical-related expenses, most supplemental plans would not be covered nor could they get covered. They can be covered by adding Gap Health. With Gap Health, they would be covered immediately. 
All employees, who are enrolled in Gap Health along with a Primary Health plan, pay a monthly premium amount which is considerably lower than a comparable health plan.
As health insurance costs, deductible and copays and coinsurance, continue to escalate, your staff may not be able to cover medical expenses with their salaries. This makes Gap Health a crucial benefit to add with any health plan you choose.
How To Get Gap Health Insurance Plan?
Call – Parsons Employee Benefits – We help you find and enroll in Gap insurance plans tailored to fit your needs.  
Schedule a meeting today, in person, on Zoom, webex or GoTo meeting to learn about how combining Gap Health with Primary Health make sense and are more economical for you and beneficial for your employees.
Parsons Employee Benefits
2754 Boultier Street,
Ste A,
Montgomery, AL 36106
Monday – Friday: 8:00 a.m. – 5:00 p.m
Ready For Better Benefits at a Better Price? Click Below!
Want To See Where You Stand, And If There Is Anything Better Out There?